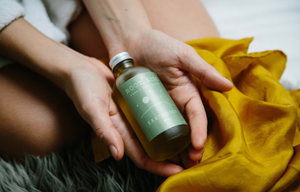 Root, Rise 4 oz Earthbody Oil RR38
Regular price
Sale price
$38.00
---
Your skin is your largest organ. Keeping it moisturized with oils/fats is beneficial for all parts of you. All of our body & systems benefit from touch. It stimulates the lymph to flow healthily which aids in detoxification, calms the nerves, increases circulation, among so so many other things.
I infuse plants in organic sunflower oil. When you steep the whole plant in oil for many moons, you get all parts of the plant. It's a slow magic and the color of the finished oil always shows it. With the oils I create I recommend using them after a shower or bath when your skin is clean and still a little wet so your pores can really take it in. Make time to give yourself a little massage, or have a loved one take care of you. Self care lives in each moment…
An all over body oil intended to moisturize, warm, and soothe the skin. This lovely combination of plants smells sweet, spicy, and of the earth.
The artwork on the bottle is an homage to the mountain behind our farm, which I call Mother Mountain. It is an ode to her and all of the powerful energy she bestows on us and our farm. I want to always remember her serene sovereignty. Her grounded feminine energy reminding us of our innate power and important role here.
Suggested Uses: Before (this is my fav way because the hot water helps push the oil into your skin) or after hot shower/bath indulge in the nourishing act of massage. Pour oil into your hand and massage into all parts of your beautiful body. This is also a nourishing act to receive by a loved one.
The ultimate experience: Heat the bottle of Earthbody oil in a shallow bowl filled with warm water before applying. Light some candles, put on your favorite relaxing music and apply oil liberally to all parts of your body. Massage slowly, paying attention to places that need extra time and care. Think of all of the amazing things your body does for you each and every day, without you even noticing. Let the oil sit for as long as you can (lay on a towel in your bathroom, read a book, meditate!) so it reaches deeper and deeper into your skin. Follow with a hot tub or shower and try not to scrub all of the oil off. YUM.
Ingredients: Organic Sunflower Oil, Tulsi* (Ocimum africanum), Queen Anne's Lace* (Daucus Carrot), Yarrow* (Achillea millefolium).
*homegrown in harmony with the earth
4 oz with options of metal screw top or white pump top!
or
8 oz with white pump top! (if you choose screw top - it won't let you add to cart. So, make sure to add an 8 oz bottle with white pump top!